Taiwan 1992
Performance Night!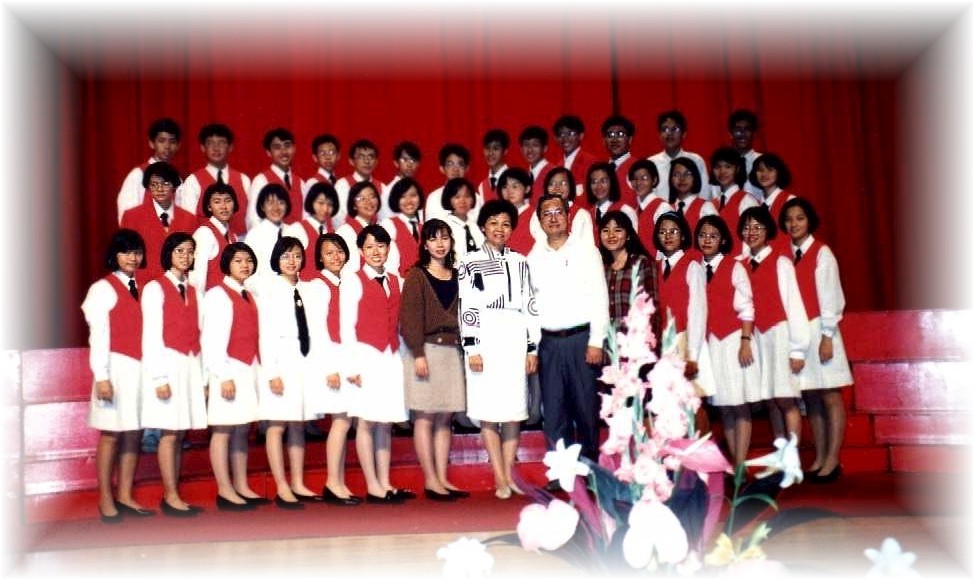 This was taken on the first night of our performance in Taiwan R.O.C. On this night, we performed several local pieces, such as 'Singapura Medley' and 'Burung Kakak Tua' and 'Bengawan Solo'. We also performed works such as the 'Beatles Medley' and madrigals such as 'Matona Mia Cara'. Of course we had to sing some Chinese folk songs which the Taiwanese could also relate to and the highlight was a Hokkien Folk Song entitled 'Ti Or Or'. And Christmas being round the corner, we also performed a few Christmas carols.
In the front row, starting from the left, the lady not in uniform is the present teacher-in-charge of the RVHS Choir, Miss Hsu Yuh Fui, who had left the school in 1993 to further her studies in music. The lady beside her was our Principal, Mdm Leong Fan Chin, who has since left the school in 1993 to be the Principal of Hwa Chong Junior College. The man beside her is our Head of Department of Chinese, Mr Ho Phang Phow, who joined us in this trip basically as our Ambassador to Sacred Heart High School. Last but not least, beside him stands another of our teacher-in-charge, Mrs Susan Lee, who has since left the school in 1994.
[RVChorale] [About us] [Vision] [Taiwan 1992] [Scenery of Taiwan] [Europe 1994] [Scenery of Europe] [Choral Music]
NB:All photos are scanned by Cheryl.